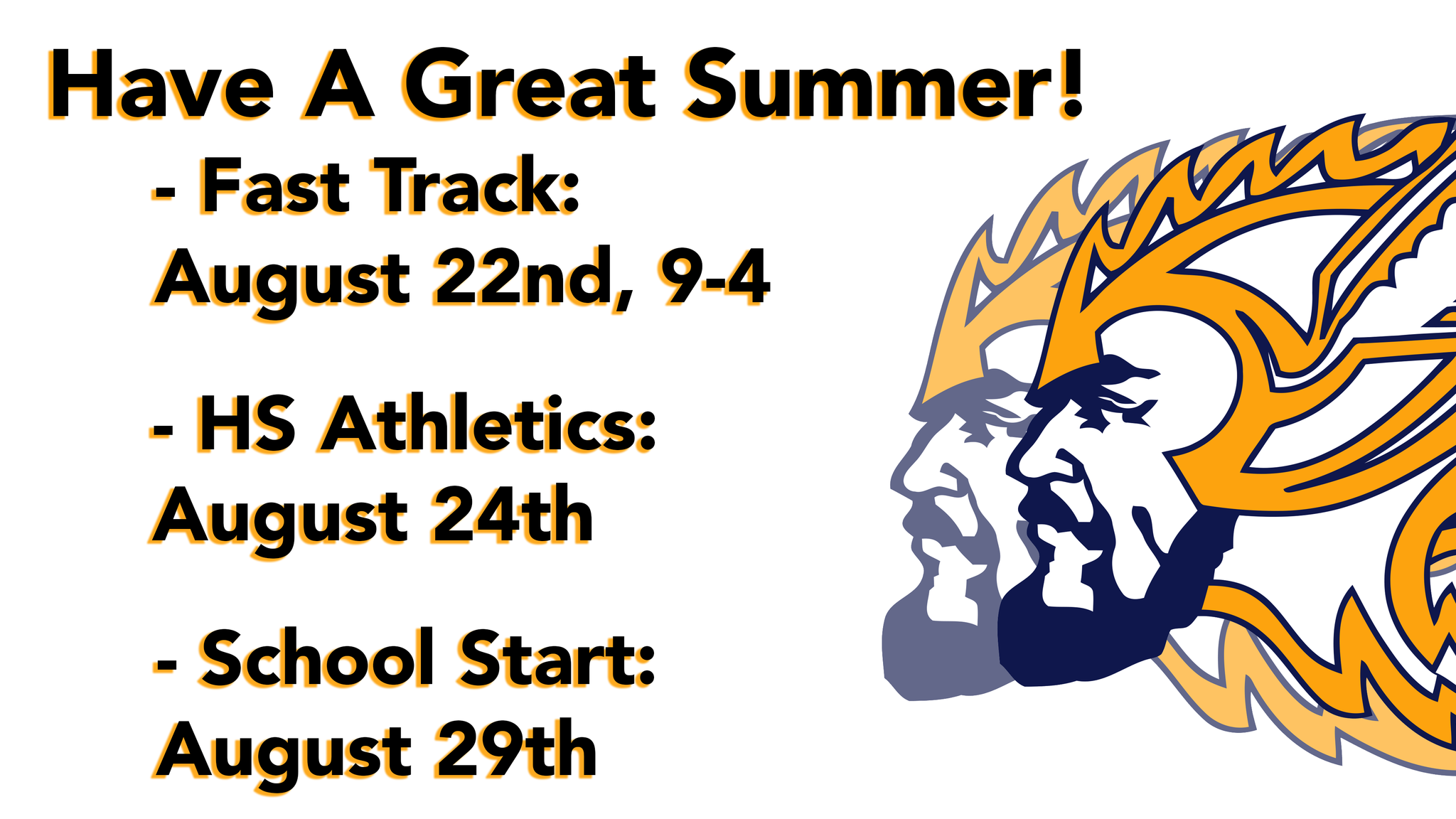 WELCOME TO
North Muskegon
"We are an Educational Community that gives our BEST and expects the BEST."
MISSION STATEMENT
The mission of North Muskegon Public Schools is to assist all students in becoming lifelong learners, with the social skills necessary to become productive, responsible citizens of strong character.
VISSION STATEMENT
North Muskegon Public Schools, with its long history of state and national educational excellence, will strive to maintain a high quality educational experience for all of its students.
News & Announcements
2022-23 School Calendar
August 8, 2022
The 22-23 School Calendar is available!

Norse Cheer begins in the summer!
June 21, 2022
Hey NM HS/MS Students, we're reaching out this EARLY, because we want you to know about Cheer Camp this Summer! All cheerleaders planning to cheer for Norse Sideline and/or Competitive teams next year are invited and highly encouraged to come to cheer camp with our teams this August 7-9.
North Muskegon Military Wall
June 20, 2022
Through the gracious help of our community and students, the social studies department has been able to install a Military Wall that spans from WWII to present. This is an ongoing project.
NAMI Introduces a Teen Support Texting Line
June 20, 2022
Lots of things are different right now due to COVID-19, and that can feel overwhelming. Talk about your feelings and get support from another young person.

Athletics
June 20, 2022
Planning on playing sports in the Fall of the 22-23 School Year? Make sure you have all your required forms filled out and ready.

Muskegon Y Swim Team
May 2, 2022
The YMCA Swim Team (MYST) Summer Swim season Starts: May 2nd Ends: July 29th. Click for more details!
Events
Calendar

Previous

August

2022

Next

S
M
T
W
T
F
S
1

Aug 1

9:00 AM to 3:00 PM

NM Board Retreat

Location:

Muskegon Country Club, 2801 Lakeshore Dr, Muskegon, MI 49441, USA

2
3
4
5
6
7
8
9
10
11
12
13
14
15
16

Aug 16

12:01 AM

Boys Varsity Tennis @ South Christian High School

Location:

7979 Kalamazoo Ave. SE, Byron Center MI 49315

Calendar:

HS Athletics Calendar

Sport: Tennis Level: Boys Varsity Team: North Muskegon High School Site: South Christian High School - Kalamazoo Campus Subsite: Tennis Courts

17
18

Aug 18

8:30 AM to 11:30 AM

Boys Varsity Tennis @ Fruitport High School

Location:

3255 Pontaluna Road, Fruitport Michigan 49415

Calendar:

HS Athletics Calendar

Sport: Tennis Level: Boys Varsity Team: North Muskegon High School Site: Fruitport High School

19

Aug 19

8:30 AM to 9:00 AM

Girls Varsity Golf @ Fruitport High School

Location:

3255 Pontaluna Road, Fruitport Michigan 49415

Calendar:

HS Athletics Calendar

Sport: Golf Level: Girls Varsity Team: North Muskegon High School Site: Fruitport High School Subsite: Oakridge golf course

9:00 AM to 9:30 AM

Girls Varsity Volleyball

Location:

Unknown, Houston USA 11111

Calendar:

HS Athletics Calendar

Sport: Volleyball Level: Girls Varsity Team: North Muskegon High School Site: Not Listed

20

Aug 20

12:01 AM

Boys Varsity Soccer @ Hackett Catholic Prep

Location:

251 Mills Street, Kalamazoo Michigan 49048

Calendar:

HS Athletics Calendar

Sport: Soccer Level: Boys Varsity Team: North Muskegon High School Site: Soisson-Rapacz-Claason Field Subsite: Field 1

1:01 AM

Girls Varsity Volleyball

Location:

Unknown, Houston USA 11111

Calendar:

HS Athletics Calendar

Sport: Volleyball Level: Girls Varsity Team: North Muskegon High School Site: Not Listed

8:30 AM to 9:00 AM

Girls JV Volleyball @ Fremont High School

Location:

5421 S Warner Ave, Fremont Michigan 49412-1207

Calendar:

HS Athletics Calendar

Sport: Volleyball Level: Girls JV Team: North Muskegon High School Site: Fremont High School Subsite: Main Gym

21
22

Aug 22

MS & HS Fast Track 9:00-4:00

Calendar:

NMPS HS Calendar

9:00 AM to 1:00 PM

HS Test Out

Calendar:

NMPS HS Calendar

4:00 PM to 7:00 PM

Boys Varsity Tennis @ Allegan High School

Location:

3300 W. 115th Ave., Allegan Michigan 49010

Calendar:

HS Athletics Calendar

Sport: Tennis Level: Boys Varsity Team: North Muskegon High School Site: L.E. White Middle School Subsite: Allegan Tennis Center

5:00 PM to 6:10 PM

Boys JV Soccer vs Western Michigan Christian High School

Location:

1507 Mills Ave, Muskegon MI 49445-3011

Calendar:

HS Athletics Calendar

Sport: Soccer Level: Boys JV Team: North Muskegon High School - Site: North Muskegon High School Subsite: Soccer Field

6:00 PM to 8:00 PM

Streaming link: https://www.youtube.com/channel/UCMyXvuPqKPMMZBH5Ju9XGIA

6:45 PM to 8:15 PM

Boys Varsity Soccer vs Western Michigan Christian High School

Location:

1507 Mills Ave, Muskegon MI 49445-3011

Calendar:

HS Athletics Calendar

Sport: Soccer Level: Boys Varsity Team: North Muskegon High School Site: North Muskegon High School Subsite: Soccer Field

23

Aug 23

12:01 AM

Boys Varsity Tennis @ Mona Shores High School

Location:

1121 Seminole Rd, Muskegon Michigan 49441-4396

Calendar:

HS Athletics Calendar

Sport: Tennis Level: Boys Varsity Team: North Muskegon High School Site: Mona Shores High School

24

Aug 24

12:01 AM

Boys Varsity Tennis @ Traverse City St. Francis High School

Location:

1601 Three Mile Road North, Traverse City Michigan 49684

Calendar:

HS Athletics Calendar

Sport: Tennis Level: Boys Varsity Team: North Muskegon High School Site: St. Elizabeth Ann Seton Middle School Subsite: Tennis Courts

12:01 AM

Coed Varsity Cross Country @ Hesperia High School

Location:

96 S Division St, Hesperia MI 49421-0338

Calendar:

HS Athletics Calendar

Sport: Cross Country Level: Coed Varsity Team: North Muskegon High School Site: Hesperia Senior High School Subsite: Baker Wood Cross Country Course

10:00 AM to 10:30 AM

Girls Varsity Golf @ Fremont High School

Location:

5421 S Warner Ave, Fremont Michigan 49412-1207

Calendar:

HS Athletics Calendar

Sport: Golf Level: Girls Varsity Team: North Muskegon High School Site: Fremont High School Subsite: Waters Edge Golf Course

4:30 PM to 5:40 PM

Boys JV Soccer vs Leland High School

Location:

1507 Mills Ave, Muskegon MI 49445-3011

Calendar:

HS Athletics Calendar

Sport: Soccer Level: Boys JV Team: North Muskegon High School - Site: North Muskegon High School Subsite: Soccer Field

6:30 PM to 8:00 PM

Boys Varsity Soccer vs Leland High School

Location:

1507 Mills Ave, Muskegon MI 49445-3011

Calendar:

HS Athletics Calendar

Sport: Soccer Level: Boys Varsity Team: North Muskegon High School Site: North Muskegon High School Subsite: Soccer Field

25

Aug 25

4:00 PM to 4:30 PM

Girls Varsity Volleyball @ East Kentwood High School

Location:

6230 Kalamazoo Ave SE, Kentwood MI 49508-7022

Calendar:

HS Athletics Calendar

Sport: Volleyball Level: Girls Varsity Team: North Muskegon High School Site: East Kentwood High School Subsite: Fieldhouse

6:30 PM to 8:30 PM

Boys JV Football @ Muskegon Catholic Central High School

Location:

1145 W. Laketon Ave., Muskegon MI 49441

Calendar:

HS Athletics Calendar

Sport: Football Level: Boys JV Team: North Muskegon High School Site: Catholic Central High School - Muskegon Subsite: Kehren Stadium (football)

26

Aug 26

4:00 PM to 6:30 PM

Boys Varsity Football vs Muskegon Catholic Central High School - Varsity Fo

Location:

1507 Mills Ave, Muskegon MI 49445-3011

Calendar:

HS Athletics Calendar

Sport: Football Level: Boys Varsity Team: North Muskegon High School Site: North Muskegon High School Subsite: Hackley Stadium

4:15 PM to 5:25 PM

Boys JV Soccer vs Reeths-Puffer High School

Location:

1507 Mills Ave, Muskegon MI 49445-3011

Calendar:

HS Athletics Calendar

Sport: Soccer Level: Boys JV Team: North Muskegon High School - Site: North Muskegon High School Subsite: Soccer Field

6:00 PM to 7:30 PM

Boys Varsity Soccer vs Reeths-Puffer High School

Location:

1507 Mills Ave, Muskegon MI 49445-3011

Calendar:

HS Athletics Calendar

Sport: Soccer Level: Boys Varsity Team: North Muskegon High School Site: North Muskegon High School Subsite: Soccer Field

27

Aug 27

12:01 AM

Coed Varsity Cross Country @ Benzie Central High School

Location:

9300 Homestead Rd, Benzonia Michigan 49616-0240

Calendar:

HS Athletics Calendar

Sport: Cross Country Level: Coed Varsity Team: North Muskegon High School Site: Benzie Central High School Subsite: Cross Country Course

28
29

Aug 29

7:55 AM to 11:25 AM

ELEM 1/2 Day of School - First Day of School

Calendar:

NMPS Elementary Calendar

11:15 AM to 11:25 AM

First Day of School - 1/2 Day of School

Location:

North Muskegon Public Schools, MI, USA

Calendar:

NMPS District Calendar

MS/HS Dismissal 11:15 a.m. Elementary Dismissal 11:25 a.m.

30
31

Aug 31

10:00 AM to 2:00 PM

Girls Varsity Golf @ Whitehall High School

Location:

6777 South Shore Dr., Whitehall Michigan 49461

Calendar:

HS Athletics Calendar

Sport: Golf Level: Girls Varsity Team: North Muskegon High School Site: White Lake Golf Club Subsite: White Lake Golf Club

6:00 PM to 8:00 PM

Boys JV Football vs Orchard View High School

Location:

1507 Mills Ave, Muskegon MI 49445-3011

Calendar:

HS Athletics Calendar

Sport: Football Level: Boys JV Team: North Muskegon High School Site: North Muskegon High School
Boys Varsity Tennis @ South Christian High School

Location:

7979 Kalamazoo Ave. SE, Byron Center MI 49315

Calendar:

HS Athletics Calendar

Sport: Tennis Level: Boys Varsity Team: North Muskegon High School Site: South Christian High School - Kalamazoo Campus Subsite: Tennis Courts

Boys Varsity Tennis @ Fruitport High School

Time:

8:30 AM to 11:30 AM

Location:

3255 Pontaluna Road, Fruitport Michigan 49415

Calendar:

HS Athletics Calendar

Sport: Tennis Level: Boys Varsity Team: North Muskegon High School Site: Fruitport High School

Girls Varsity Golf @ Fruitport High School

Location:

3255 Pontaluna Road, Fruitport Michigan 49415

Calendar:

HS Athletics Calendar

Sport: Golf Level: Girls Varsity Team: North Muskegon High School Site: Fruitport High School Subsite: Oakridge golf course

Girls Varsity Volleyball

Location:

Unknown, Houston USA 11111

Calendar:

HS Athletics Calendar

Sport: Volleyball Level: Girls Varsity Team: North Muskegon High School Site: Not Listed

Boys Varsity Soccer @ Hackett Catholic Prep

Location:

251 Mills Street, Kalamazoo Michigan 49048

Calendar:

HS Athletics Calendar

Sport: Soccer Level: Boys Varsity Team: North Muskegon High School Site: Soisson-Rapacz-Claason Field Subsite: Field 1

Girls Varsity Volleyball

Location:

Unknown, Houston USA 11111

Calendar:

HS Athletics Calendar

Sport: Volleyball Level: Girls Varsity Team: North Muskegon High School Site: Not Listed

Girls JV Volleyball @ Fremont High School

Location:

5421 S Warner Ave, Fremont Michigan 49412-1207

Calendar:

HS Athletics Calendar

Sport: Volleyball Level: Girls JV Team: North Muskegon High School Site: Fremont High School Subsite: Main Gym

Boys Varsity Tennis @ Mona Shores High School

Location:

1121 Seminole Rd, Muskegon Michigan 49441-4396

Calendar:

HS Athletics Calendar

Sport: Tennis Level: Boys Varsity Team: North Muskegon High School Site: Mona Shores High School

Boys Varsity Tennis @ Traverse City St. Francis High School

Location:

1601 Three Mile Road North, Traverse City Michigan 49684

Calendar:

HS Athletics Calendar

Sport: Tennis Level: Boys Varsity Team: North Muskegon High School Site: St. Elizabeth Ann Seton Middle School Subsite: Tennis Courts
2022 - 2023 School Calendar
Beliefs Statement
We believe that the purpose of NMPS is to create students who:
Function as responsible students
Communicate effectively using multiple modalities
Think critically and problem solve
Cooperate and collaborate
We believe that the stakeholders of the district will:
Expect high standards for all students
Work in tandem with families, teachers and the community
Create a safe and nurturing environment for all
Assist all students in reaching their maximum potential
Enhance facilities to support achievement, athletics, and the arts
"We are an Educational Community that gives our BEST and expects the BEST."