Norse Network
CHEER Do you want to use or improve your gymnastics skills, strength, flexibility, stunting, and athletic performance?
All levels of skill and cheer experience are welcome (even zero experience!), but be prepared to work hard.
If you are interested in cheer camp this summer and cheering in the fall or winter:
please sign-up for cheer here
(It's ok to sign-up even if you're not sure, but if you sign up, you'll be included in our future communications).
Current 6th -11 th Graders can sign up here now... and officially register later (using FINAL FORMS) to cheer for next fall Middle School Sideline and/or Girls Competitive Cheer!
As with all sports, a sports physcial will be required, and there is a pay to participate fee (There may be additional costs for shoes and cheer uniform fees).
Articles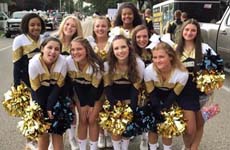 Norse Cheer begins in the summer!
June 21, 2022
Learn about Cheer Camp August 7-9.
North Muskegon Military Wall
June 20, 2022
Our social studies department has installed a Military Wall that spans from WWII to present.
NAMI Introduces a Teen Support Texting Line
June 20, 2022
Feeling overwhelmed with COVID-19 changes? Talk to and get support from another young person.
Athletics
June 20, 2022
Learn about all your required forms.
Muskegon Y Swim Team
May 2, 2022
the YMCA Swim Team (MYST) Summer Swim season Starts: May 2nd Ends: July 29th. Click for more details!