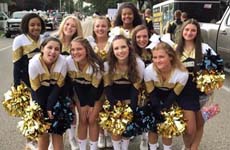 Norse Cheer begins in the summer!
Hey NM HS/MS Students - we are already beginning to make plans for next years' cheer program! We're reaching out this EARLY, because we want you to know about Cheer Camp this Summer! All cheerleaders planning to cheer for Norse Sideline and/or Competitive teams next year are invited and highly encouraged to come to cheer camp with our teams this August 7-9
North Muskegon Military Wall
Through the gracious help of our community and students, the social studies department has been able to install a Military Wall that spans from WWII to present. This is an ongoing project
NAMI Introduces a Teen Support Texting Line
Lots of things are different right now due to COVID-19, and that can feel overwhelming. Talk about your feelings and get support from another young person.
You are not alone! Text NAMI Teen Support at (207) 515-8398
Athletics
Planning on playing sports in the Fall of the 22-23 School Year?!
Click to make sure you have all your required forms filled out and ready.
Muskegon Y Swim Team
The YMCA Swim Team (MYST) Summer Swim season Starts: May 2nd Ends: July 29th. Click for more details!