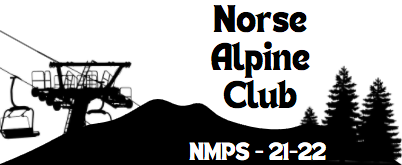 North Muskegon MS/HS Alpine Club
Come out for the 2022 ski/snowboard season!
North Muskegon MS/HS Alpine Club runs for 5 trips starting in January. We take students and chaperones to Caberfae Peaks on Fridays after school. It is open to NM students in grades 6-12. There will be one additional High School only all day trip offered on Friday of Mid-Winter break.
*Registration should be available the 1st week of December. All paperwork and payments are due by December 17th or as soon as we fill 2 buses - whichever comes first.
**2022 Updated (tentative) Dates:
~ Jan. 14th - 3:00 departure from school - LIMITED SPACE REMAINING
~ Jan. 21st - 3:00 departure from school
~ Jan. 28th - 3:00 departure from school - LIMITED SPACE REMAINING
~ Feb. 4th - 3:00 departure from school
~ Feb 11th - 3:00 departure from school - LIMITED SPACE REMAINING
~ SPECIAL HIGH SCHOOL ONLY TRIP - Feb. 18th - ALL DAY SKI - SPECIAL HIGH SCHOOL ONLY TRIP - ALL DAY SKI - 11 am departure from school (no school - Mid-Winter Break) Additional fee for this trip - See registration link. - CANCELATION RISK
Any questions, feel free to email Ryan Corbin, Alpine Advisor, at norsealpineclub@gmail.com