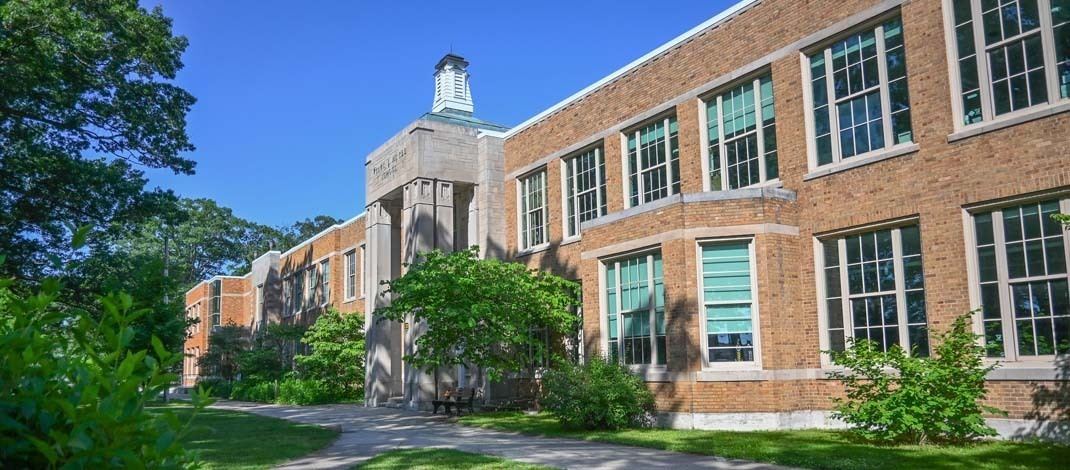 Our District
A Tradition of Excellence
The beautiful community of North Muskegon has a long tradition of providing excellent education for its children. The belief that education is the major foundation for the future strength of our country and the cornerstone for individual success is the basis for our pursuit of academic excellence.
High Standards
Our schools have genuinely high standards of academic attainment rather than minimum ones. We encourage teachers and parents to support and foster students' talents and abilities, and we believe that the willingness to learn must be nurtured through the development of self-confidence and self-esteem both at home and in the school setting.
Unique Learning Environment
The small size of our school district affords our students some very unique opportunities. Small class size enables teachers to monitor the success of their students more closely and the open-door, hands-on policy of our administrators combine to give our students every opportunity to achieve their full potential. Additionally, our size allows our students to engage in a full range of sports and other extra-curricular activities.
The Elementary School
The Elementary School consists of Kindergarten through Grade 5. Discovery Kindergarten (a program for young fives) is also offered. The curriculum includes Reading, Language Arts, Mathematics, Social Studies, and Science. Music, Art and Physical Education are taught by certified teachers in these specific areas. Additional activities offered during school hours include: Junior Great Books and Strings. After school programs include Girls on the Run, Destination Imagination, Elementary Basketball and other exploratory subjects. In cooperation with a district policy to promote reading, independent reading is practiced everyday in the classrooms. North Muskegon has also initiated a homework policy which strongly encourages daily home study for periods of time determined to be appropriate for each grade level. Practice in building self-esteem and respect for others, field trips, enrichment opportunities and stage performance enhance the grade school experience for our students.
The Middle School
The Middle School (Grades 6, 7, and 8) provides for the gradual transition between elementary and high school education and is designed to meet the changing needs of the emerging adolescent. Because of the extraordinary changes occurring in the physical, social, intellectual and emotional make-up of these students, the middle school curriculum is designed to affirm independence and interdependence and is based on the uniqueness of growing adolescents. English, Reading, Science, Social Studies, Math (including Transition Math and Algebra), Computers, Chorus, Band, Orchestra, Art, Physical Education, Creative Expression, Careers, Study Skills, Technology Lab, Life Skills, Consumer Education, Keyboarding, Foreign Language and Leadership Skills are included in the middle school curriculum. Among the extra-curricular activities offered to middle school students are Girls and Boys Basketball, Girls and Boys Track, Volleyball, Student Government, Odyssey of the Mind, and Academic Track.
The High School
North Muskegon High School has a strong basic four- year college preparatory program. For students selecting other courses of study, the Career Tech Center offers a wide variety of additional classes. Prior to ninth grade, counselors meet with every student and parent to define the academic goals to be pursued during the high school years. Extra-curricular and co-curricular activities include Spanish Club, French Club, Math Club, Girls Club, Drama Club, Student Council, National Honor Society, Band, Orchestra, Choir, Close-Up, SADD and Yearbook as well as the athletic programs described below.
Athletics
North Muskegon offers fifteen interscholastic sports at the high school level to its athletes. Boys' programs include: Football, Cross Country, Golf, Basketball, Track, Baseball, Soccer, and Tennis. Girls' programs include: Basketball, Cross Country, Tennis, Soccer, Side-Line Cheerleading and Competitive Cheerleading, Volleyball, Track and Softball. North Muskegon is a Division IV, Class C school and competes in the West Michigan Conference. In recent years, many of our athletic teams have received "Top Ten" rankings along with finishing at high levels in the state tournaments. In addition, intramural programs are offered to the high school, middle school and elementary students.
School of Choice
North Muskegon Public Schools accept and welcome School of Choice students from other districts. School of Choice students are currently enrolled at the elementary, middle and high school levels.
Special Assistance
Students with special needs are provided assistance through counseling services for students in all grades, a school psychologist, a school social worker, a speech therapist, programs for learning disabilities, and a reading specialist available to assist all students. There is also a program for gifted and talented students.
Community Support
Strong parental and community support have been an integral part of our district's success. We have many volunteers involved in working with our students in programs such as Junior Great Books and Destination Imagination. We host goal -oriented Parent Forums which meet monthly to express concerns and explore new ideas. A District School Improvement Team has been formed to continue to foster school improvements and changes. In addition, the Athletics Booster, Music Booster Clubs, and PTA have been very successful in raising funds to help support these programs. The North Muskegon Education fund raises money through tax-deductible contributions to supplement funds for non-operational expenses of the district.
In Conclusion
In North Muskegon, devoted teachers, dedicated administrators, a committed Board of Education, supportive parents and the community work together to make North Muskegon Public Schools a truly unique learning environment.