Welcome to

North Muskegon

"We are an Educational Community that gives our BEST and expects the BEST."
Mission Statement
The mission of North Muskegon Public Schools is to assist all students in becoming lifelong learners, with the social skills necessary to become productive, responsible citizens of strong character.
Vision Statement
North Muskegon Public Schools, with its long history of state and national educational excellence, will strive to maintain a high quality educational experience for all of its students.
Spotlights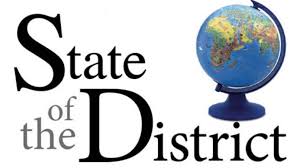 State of the District Address
Please join Dr. Babcock on Wednesday February 7, 2018 at 6:30pm in the auditorium for the annual State of the District Address. The Board of Education's established 3 Year Strategic Plan will be the basis for updating our school community. The presentation will be focused on the 3 main areas from the plan consisting of Student Achievement, Communication and Fiscal Responsibility. We hope you are able to join us!
Events
Calendar

‹

February

2018

›

S
M
T
W
T
F
S
1

Feb 1

Lunch Menu (see notes)

NMPS District Calendar

A. Chicken Noodle Soup, Peas, Banana B. Stuffed Crust Pizza C. Sub Sandwich

2

Feb 2

11:10 AM to 11:25 AM

1/2 Day of School for Students - Staff PD

North Muskegon Pub

NMPS District Calendar

MS/HS Dismissal at 11:10 a.m. Elementary Dismissal at 11:25 a.m.

3
4
5

Feb 5

Lunch Menu (see notes)

NMPS District Calendar

A. White chili, Tortilla Chips, Carrots, Pears B. Mini Corn Dogs C. Cheeseburger

6

Feb 6

Lunch Menu (see notes)

NMPS District Calendar

A. Chicken Drumstick, Cheesy Potatoes, Peaches B. Pepperoni Pizza C. Italian Sub

7

Feb 7

Lunch Menu (see notes)

NMPS District Calendar

A. Pizza Pocket, Green Beans, Fruit Cocktail B. Chicken Tender C. Hot Dog

6:30 PM to 7:30 PM

State of the District Address

NM Fine Arts Center/FLEX

NMPS District Calendar

Please join Dr. Babcock on Wednesday, February 7, 2018 at 6;30 p.m. in the auditorium for the annual State of the District Address.

The Board of Education's established 3 Year Strategic Plan will be the basis for updating our school community. The presentation will be focused on the 3 main areas from the plan consisting of Student Achievement, Communication and Fiscal Responsibility. We hope you are able to join us!

8

Feb 8

Lunch Menu (see notes)

NMPS District Calendar

A. G & L Hot Dog, French Fries, Fresh Fruit B. Pork BB! C. Wow Butter & Jelly

9

Feb 9

Lunch Menu (see notes)

NMPS District Calendar

A. Walking Taco, Salad, Pineapple B. Chicken Patty C. Turkey Sub

10
11
12

Feb 12

Lunch Menu (see notes)

NMPS District Calendar

A. Chicken Fajitas, Refried Beans, Mandarin Oranges B. Nacho Bites C. Hot Dog

13

Feb 13

Lunch Menu (see notes)

NMPS District Calendar

A. Red Chili, Soft Pretzel, Green Beans, Pears B. Polish Dog C. Chicken Quesadilla

7:00 PM to 8:00 PM

Norse Network Meeting

MSHS Library

NMPS District Calendar

14

Feb 14

2nd Student Count Day

NMPS District Calendar

Lunch Menu (see notes)

NMPS District Calendar

A. Mac & Cheese, Broccoli, Pineapple B. Norse Rib C. Italian Sub

15

Feb 15

Lunch Menu (see notes)

NMPS District Calendar

A. Sloppy Joe, Sweet Potato Fries, Apple B. Chicken Patty C. Hot Dog

16

Feb 16

District-wide "NO homework weekend"

NMPS District Calendar

NO School - Mid-Winter Break

North Muskegon Public Schools

NMPS District Calendar

17
18
19

Feb 19

NO School - Mid-Winter Break

North Muskegon Public Schools

NMPS District Calendar

20

Feb 20

Lunch Menu (see notes)

NMPS District Calendar

A. Dino Nuggets, Baked Beans, Pears B. Beef Stew C. Turkey Burger

21

Feb 21

Lunch Menu (see notes)

NMPS District Calendar

A. French Toast, Hash browns, Applesauce B. Cheese Omelet C. Wow Butter & Jelly

22

Feb 22

Lunch Menu (see notes)

NMPS District Calendar

A. Pizza Hut, Carrots, Banana B. Chicken Breast C. Veggie Burger

23

Feb 23

Lunch Menu (see notes)

NMPS District Calendar

A. Lasagna Roll Up, Green Beans, Pineapple B. Hot Dog C. Cheeseburger

24
25

Feb 25

Pre-festival Band and Orchestra Concert

NMPS District Calendar

6:00 PM to 7:00 PM

HS Academic Awards Assembly

NMPS District Calendar

26

Feb 26

Lunch Menu (see notes)

NMPS District Calendar

A. Bernie O's Pizza, Corn, Pears B. Chicken Breast C. Sub Sandwich

6:00 PM to 6:30 PM

Music Boosters Meeting

MSHS Library

NMPS District Calendar

7:30 PM to 8:30 PM

Board of Education Meeting - Regular

HS Library

NMPS District Calendar

27

Feb 27

Lunch Menu (see notes)

NMPS District Calendar

A. Ravioli, Green Beans, Peaches B. Hamburger C. Hot Dog

28

Feb 28

Lunch Menu (see notes)

NMPS District Calendar

A. Salisbury Steak, Mashed Potatoes, Applesauce B. Turkey & Gravy C. Grilled Cheese
Lunch Menu (see notes)

Feb 23

NMPS District Calendar

A. Lasagna Roll Up, Green Beans, Pineapple B. Hot Dog C. Cheeseburger

Pre-festival Band and Orchestra Concert

Feb 25

NMPS District Calendar

Pre-festival Band and Orchestra Concert

Feb 25

NMPS HS Calendar

HS Academic Awards Assembly

Feb 25

6:00 PM to 7:00 PM

NMPS District Calendar

Lunch Menu (see notes)

Feb 26

NMPS District Calendar

A. Bernie O's Pizza, Corn, Pears B. Chicken Breast C. Sub Sandwich

Music Boosters Meeting

Feb 26

6:00 PM to 6:30 PM

MSHS Library

NMPS District Calendar

Board of Education Meeting - Regular

Feb 26

7:30 PM to 8:30 PM

HS Library

NMPS District Calendar

Lunch Menu (see notes)

Feb 27

NMPS District Calendar

A. Ravioli, Green Beans, Peaches B. Hamburger C. Hot Dog

Lunch Menu (see notes)

Feb 28

NMPS District Calendar

A. Salisbury Steak, Mashed Potatoes, Applesauce B. Turkey & Gravy C. Grilled Cheese
2017 - 2018 School Calendar & Calendar of Events Detail

2017-2018 NMPS Calendar


2017-2018 NMPS Calendar Event Detail
Beliefs Statement
We believe that the purpose of NMPS is to create students who:
Function as responsible students
Communicate effectively using multiple modalities
Think critically and problem solve
Cooperate and collaborate
We believe that the stakeholders of the district will:
Expect high standards for all students
Work in tandem with families, teachers and the community
Create a safe and nurturing environment for all
Assist all students in reaching their maximum potential
Enhance facilities to support achievement, athletics, and the arts
"We are an Educational Community that gives our BEST and expects the BEST."